The Boss Yourself First Podcast
Our podcast is where we take deeper dives into all aspects of self-leadership including how you can leverage it to lead your teams with greater authenticity and impact. Our deep dives include teaching episodes, expert guests, and coaching. We can go deep because we devote an entire season to a topic, so our listeners can actually explore and apply valuable principles to help them thrive at work and life.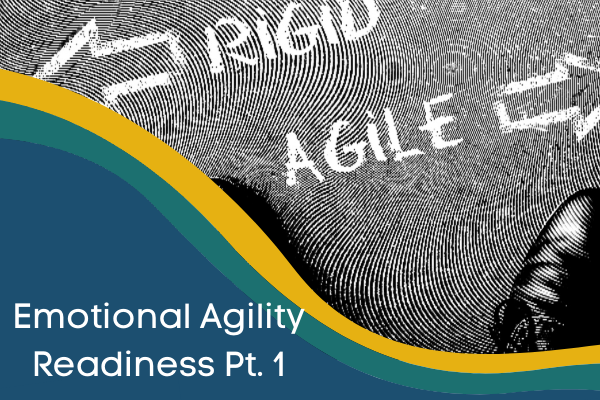 Season 1 Episode 1 – The First Principle for Emotional Agility Readiness
The only thing that is certain is uncertainty. That has never been more evident than in the year 2020, and never before have the current generations needed to be nimble in processing our emotions and thoughts to adjust to the constant ripples (and sometimes title waves) this uncertainty generates. In this first episode, we lay the groundwork to build the self-leadership muscle of emotional agility.
Season 1 Episode 2 – Principles of Emotional Agility Readiness Part 2
This episode continues our preparation for Emotional Agility. We cover the last two principles needed to get down to the business of building emotional nimbleness, flexibility, and balance that are foundations of self-leadership.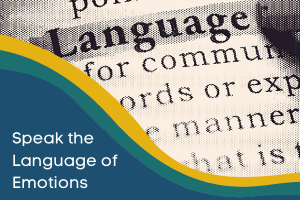 Season 1 Episode 3 – Get Emotionally Literate: The Language of Emotions
This episode begins the real work of creating emotional awareness and understanding. Learn how to expand your emotional vocabulary and comprehension to speak the language of emotions with greater fluency.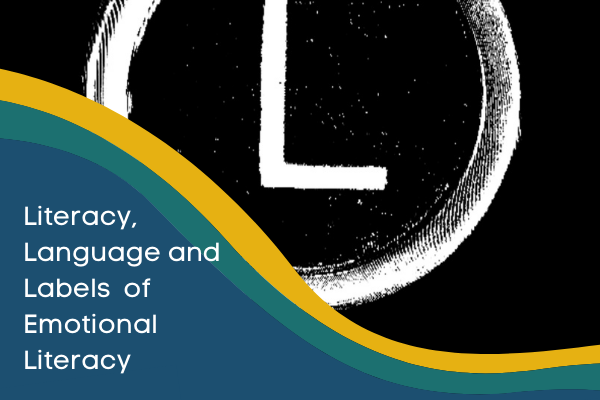 Season 1 Episode 4 – Literacy, Language and Labels of Emotional Agility
How do you like to show up in a heated moment? Explosively out-of-control or clear-thinking and decisive? In this episode, we add another layer to our emotional literacy with the language we use and the labels we create. With this understanding, we can calm our triggered brains to create space between stimulus and response – to choose our actions and show up in a way that aligns with our values.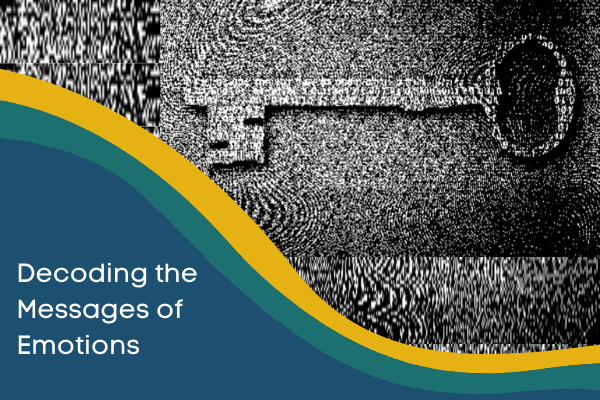 Season 1 Episode 5 – Decode the Messages of Emotions
On this week's episode, we dig deep to discover the messages emotions deliver. Yes, emotions enrich our lives, painting the human experience with both joy and sadness, but emotions also provide feedback on our values and what is important to us. Understanding the messages emotions deliver is the next step to leveraging that data to choose thoughts and actions that keep us moving forward toward our goals and focusing our energy in ways that align with our values.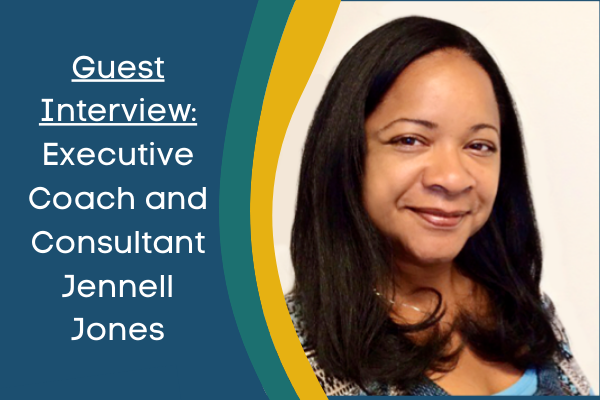 Season 1 Episode 6 – Executive Coach and Consultant Jennell Jones
Has 2020 challenged your emotional agility and/or made you take a hard look at diversity in your workplace? Executive Coach and Consultant Jennell Jones shares her experiences and insights on how to build your emotional agility, diversity and self-leadership. There is so much practical application in this episode, you won't want to miss out!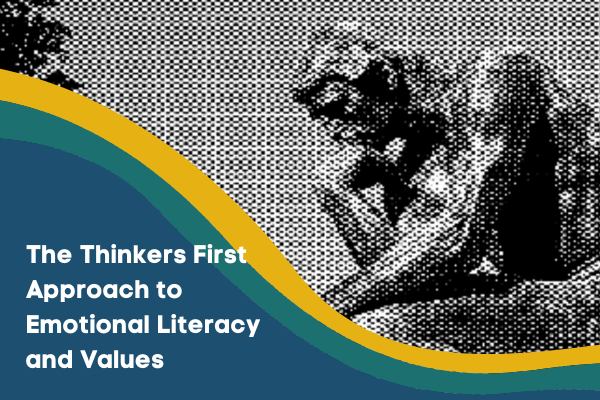 Season 1 Episode 7 -The Thinkers First Approach to Emotional Literacy and Values
Today we're exploring another approach to gaining emotional literacy – The Thinkers First Approach. It's not that feelers don't think or thinkers don't feel but for some of us, it is easier to approach circumstances with detached logic first. So we're talking about how those, who first lean toward logic, can access that emotional data. Then we're leveraging that information, plus a couple of other data collection methods, to get clear on our top current values and to continue building emotional agility.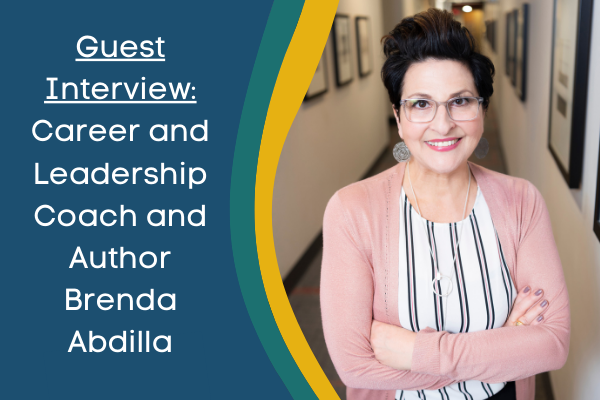 Season 1 Episode 8 -Guest Interview: Career and Leadership Coach and Author Brenda Abdilla
On this episode, we're talking with Brenda Abdilla about building our emotional agility when dealing with stress. Brenda shares from her new book Outsmarting Crazytown: A Business Novel About how Derailed Professionals Can Get Back On Track and opens up about how her personal journey helped develop her self-leadership skills.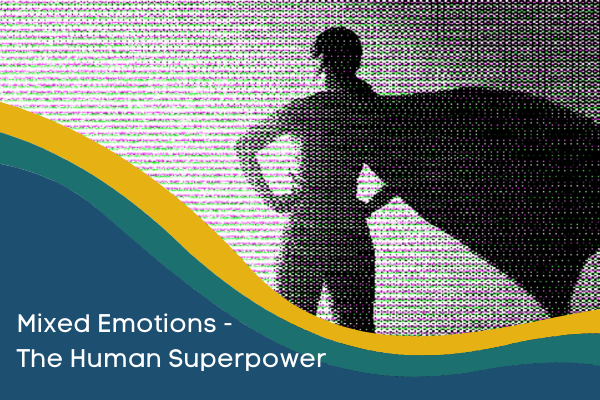 Season 1 Episode 9 – Mixed Emotions: The Human Superpower
Today we tap into our human superpower of holding mixed emotions. That may sound to you like more of a weakness, but we're taking the Boss Yourself First Emotional Framework, that I use myself and with my clients, to leverage that ability into an agility superpower. Difficult emotions are plentiful – the events of 2020 alone have shown that. Anxiety, fear, and stress are not our only companions, listen, and learn how to invite your supportive emotions into the mix.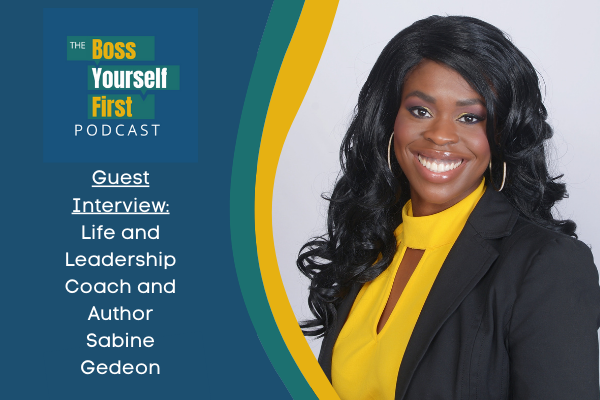 Season 1 Episode 10 – Guest Interview: Life and Leadership Coach and Author Sabine Gedeon
Are you struggling with all of the changes 2020 has brought? Sabine walks us through a powerful four-step process to improve our emotional agility when dealing with change. Plus, this episode is packed with practical approaches to increase self-leadership and embrace personal transformation.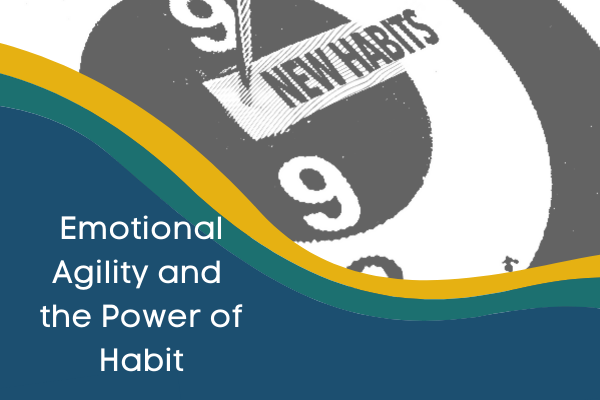 Season 1 Episode 11 – Emotional Agility and the Power of Habit
As we wind down the first season, on today's episode we're working on aligning our behaviors with our values through the power of habit. Learn how to adopt new habits and the Golden Rule of Habit Change. Conserve energy and reduce the disparity between how we want to show up and how we actually live, all factors that support emotional agility.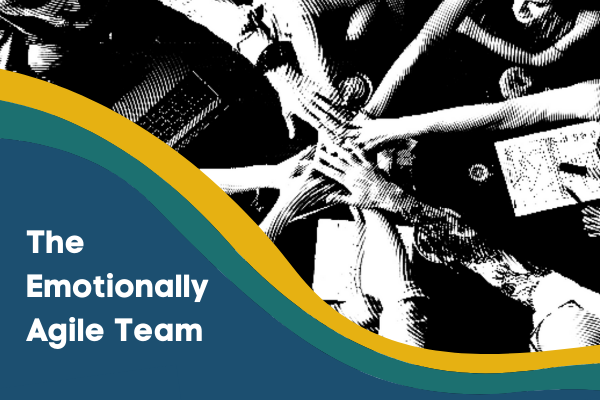 Season 1 Episode 12 – The Emotionally Agile Team
In this final episode of our season on emotional agility, we're talking about the emotionally agile team. Learn why emotional agility is crucial for success in the workplace. Also, ideas for how to build emotional agility with your team. Listen in for these important to ways to cap off the season and apply the principles and practices of emotional agility.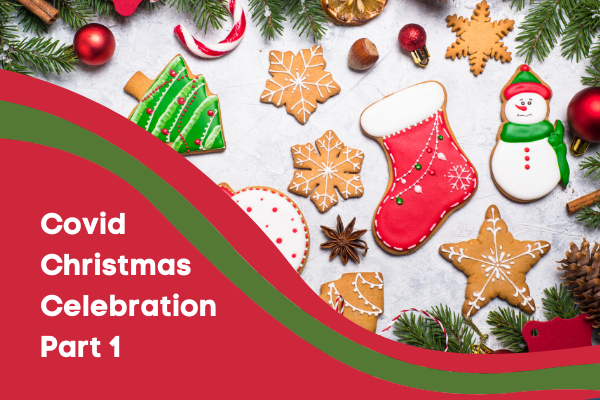 Bonus Episode 1 – Covid Christmas Celebration Part 1
Struggling about how to celebrate in a pandemic? This bonus episode is exploring the obstacles to and strategies for planning a Covid Christmas (or the holiday of your choice) celebration. We lean on core values to manage our holiday mindset and focus our planning. Listen and get help for the holidays!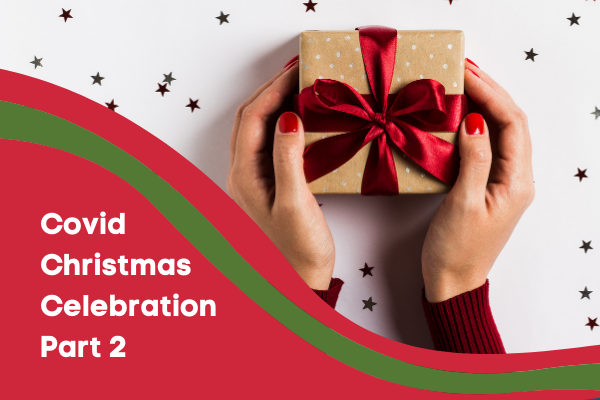 Bonus Episode 2 – Covid Christmas Celebration Part 2
Want help creating a safe and celebratory Christmas? This episode finishes our exploration of Covid Christmas Core Values and gets your creativity flowing with practical and fun ideas for a great celebration, even during a pandemic. Be sure to get the resources from at bossyourselffirst.com on the podcast page for this episode. Happy Holidays, friends!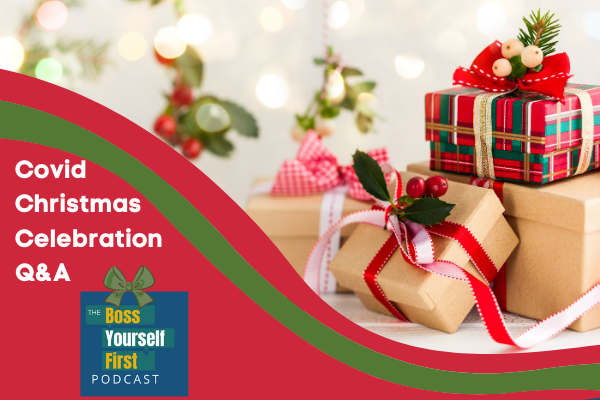 Bonus Episode 3 – Covid Christmas Celebration Q&A
Hey friends, I've had so many questions around our Covid Christmas Celebration, that I'm taking this bonus episode to address a couple of them. You'll get some mindset and motivations support around holiday gift giving and dealing with the emotional ups and downs of celebrating Christmas in a pandemic. Stay tuned all the way to the end to learn one of my favorite techniques of borrowing energy from your future self. If you find the work that we're doing on the Boss Yourself First Podcast interesting and valuable, please leave a review where ever you listen to podcasts. Thanks!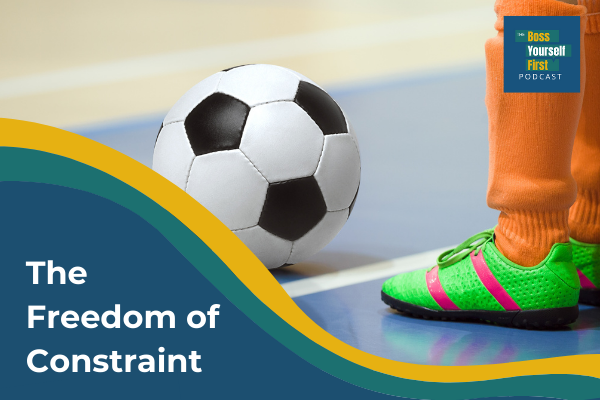 Season 2 Episode 1 – The Freedom of Constraint
Today we're introducing our topic for Season 2. This season we're exploring constraint. While freedom and constraint may seem like opposing forces, we're going to spend the next couple of months exploring the way self-leaders can leverage constraint to increase creativity and innovation. We'll learn to use the power of constraint to free up and even accelerate forward movement. Today we define constraint, introduce this season's book club read and challenge ourselves to start playing with the power of constraint. Join us, it's going to be a great season and we're just getting started!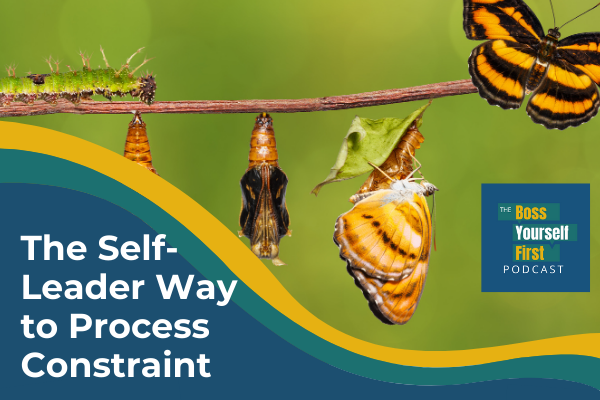 Season 2 Episode 2 – Self-Leaders and the Process of Leveraging Constraint
In this episode, we are jumping into the process of leveraging constraint. We explore each stage and I share a bit of my journey with constraint. Where are you in the process? Once you find out, you can take specific steps to move forward to get where you want to go with new perspectives and new energy.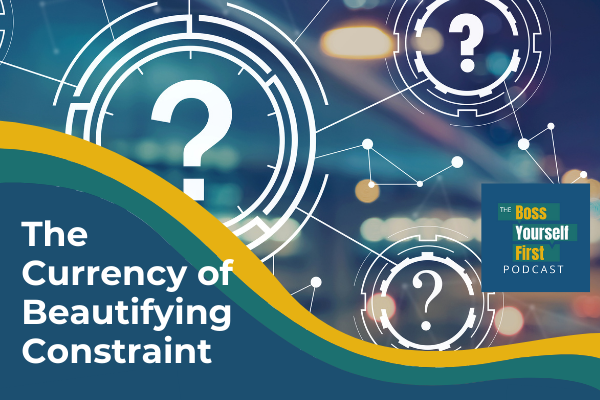 Season 2 Episode 3 – The Currency of Beautifying Constraint
In this episode, we're learning to become affluent in the currency of beautifying constraint with question thinking. We are breaking free of path dependency (habit thinking), which keeps us from working through the stages of processing constraint. Listen in to start building open and flexible thinking that characterizes self-leaders who know how to leverage constraint, to their own and their organizations' success.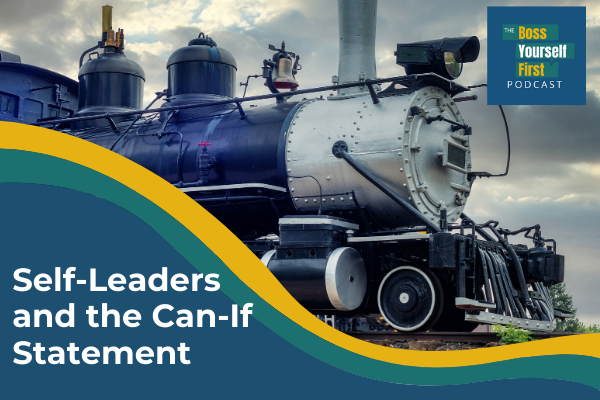 Season 2 Episode 4 – Self-Leaders and the Can-If Statement
Remember the Little Engine that Could? Today we're talking about the little engine of processing constraint – the Can-If statement. Self-leaders learn to power their creativity and innovation around constraint processing with a simple (but not always easy) flip from seeing obstacles to finding solutions. Learn how on today's episode.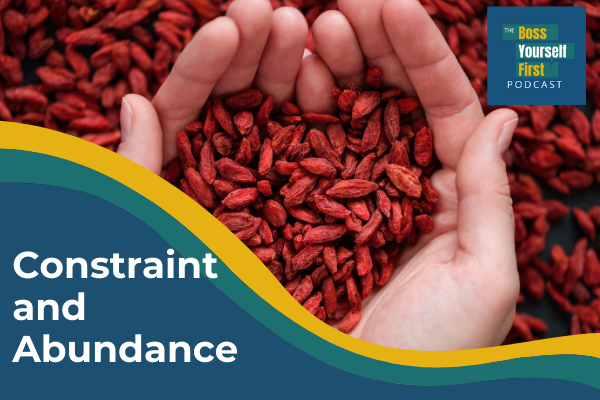 Season 2 Episode 5 – Constraint and Abundance
On today's episode, we work on approaching our "Can-If" statements with an abundance mentality. Self-leaders who process constraint from a place of abundance tap into fresh creativity and innovative energy. Learn to expand your abundance mentality and focus on four resource areas with new perspectives that can move you forward in leveraging your constraints.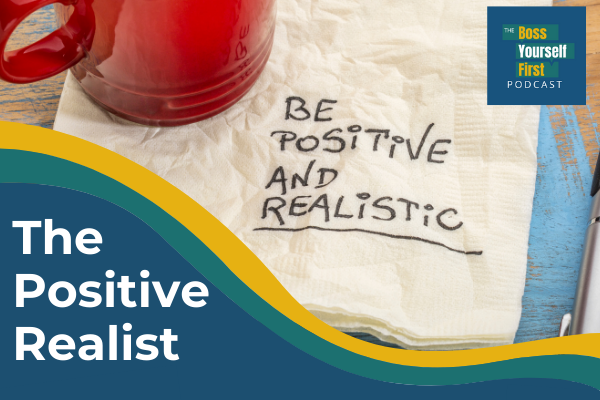 Season 2 Episode 6 – The Positive Realist
On today's episode, we're taking a close look at mental contrast – a method that uses both positive and still realistic visioning to create desired results. We're still working on processing constraint but understanding this method will help us create motivation for that process. Today you'll learn the WOOP method to pursue your goals and be sure to pick up a WOOP worksheet at bossyourselffirst.com under this episode.
Season 2 Episode 7 – The Self-Leader's Emotional Motivation
On today's episode, we're learning how to link and leverage emotional motivation to the process of making constraints beautiful and get the results we want. This is a great framework for building powerful emotional narrative around your desired results. Remember to grab your infographic for this episode at bossyourselffirst.com on the resource page under this episode.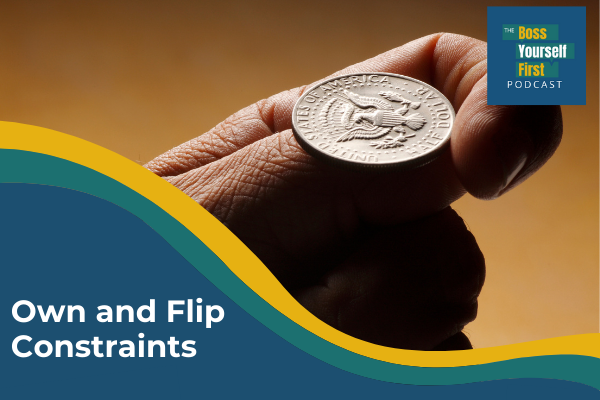 Season 2 Episode 8- Own and Flip Constraint
On today's episode, we look at a simple but powerful technique to quickly process constraint. Learn to own your constraint and then flip it to generate creative and motivating energy. We also take a peek into Laura Huang's excellent book, Edge: Turning Adversity into Advantage. Don't miss this short and powerful episode!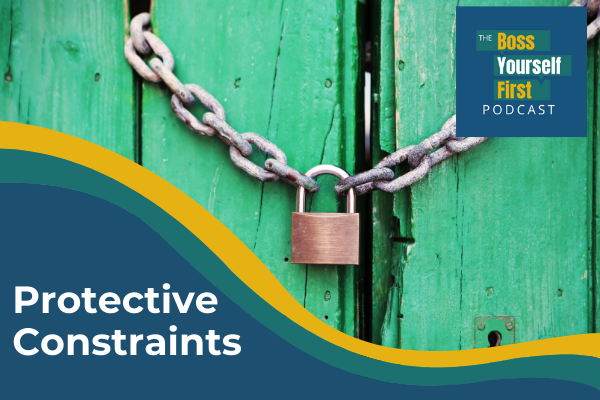 Season 2 Episode 9- Protective Constraints
On today's episode, we take a look at a different aspect of constraint. Explore protective constraints and learn how to discern if they support your efforts at living according to your values and moving towards your goal. Are you overprotecting? Listen in and find out.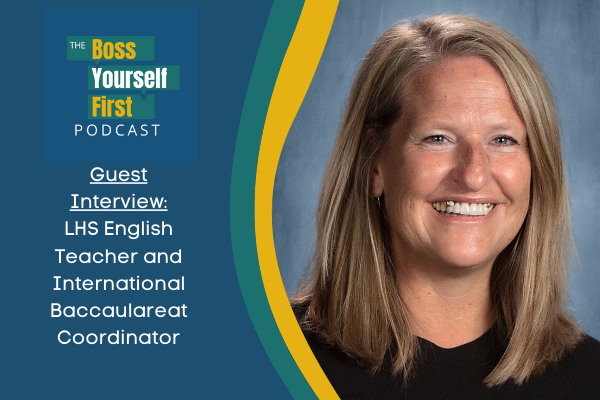 Season 2 Episode 10 – Guest Interview:
Joellen Kramer
On this episode, we sit down with Joellen Kramer, English Teacher at Lakewood High School and Coordinator of Lakewood's International Baccalaureate Diploma Program. Joellen shares her experiences with constraint personally and as a teacher during unprecedented times. She takes us inside her frontline work with tomorrow's leaders and the self-leadership principles she hopes to pass on to her students. This is an inspiring episode you won't want to miss!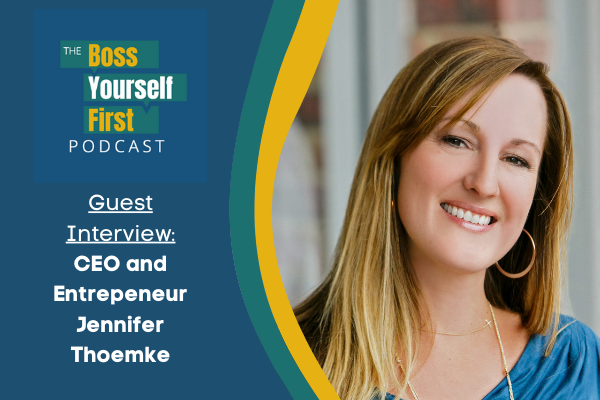 Season 2 Episode 11 – Guest Interview:
Jen Thoemke
Today we get to sit down with Jennifer Thoemke and unpack her process for dealing with constraint. With more than 25 years of leadership experience, Jen shares her approach to self-leadership and how it translates into leading others well – especially when dealing with the limitations of the pandemic in her two prosperous, face-to-face businesses. Listen and learn how to prioritize your values and what creating community can look like for your team.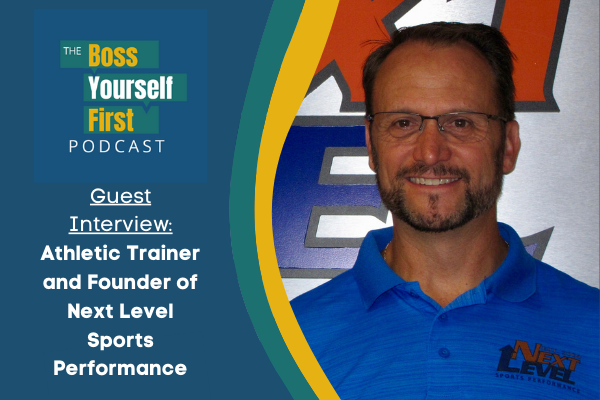 Season 2 Episode 12 – Guest Interview:
Jim Keller
On today's episode, we're talking to Jim Keller, founder of Next Level Sports Performance and former Assistant Athletic Trainer for the Denver Broncos. You can listen in as Jim shares his stories of dealing with constraint both personally and professionally. Learn about his journey and pick up some of his masterful self-leadership skills.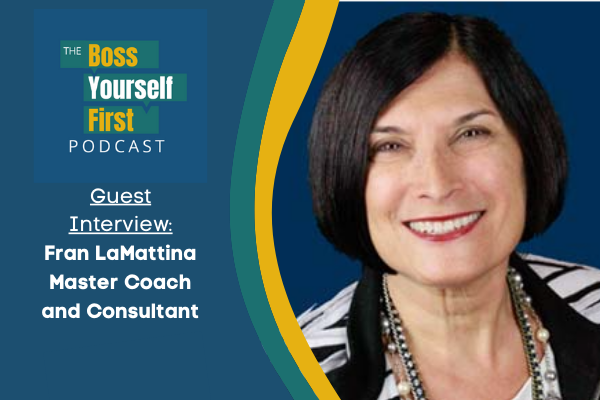 Season 2 Episode 13 – Guest Interview:
Fran LaMattina, PHD, MCC
Today we sit down with Master Coach and Consultant Fran LaMattina, as she unpacks self-leadership and the constraint of aging. You'll learn solid self-leadership principles and why they are so important to internal and external leadership. Additionally, you can hear about strategies for a healthy aging mindset and finishing strong It's never too late!
Season 2 Episode 14 – Guest Interview:
Cali Mau – Certified Relationship Coach
In today's episode, we're talking with relationship coach, Cali Mau. Have the constraints of the last 13 months been wearing on your relationships? Listen in, as Cali shares her process and some important principles around developing deep relationships, as well as her personal journey with constraints. Show notes and resources can be found at BossYourselfFirst.comin the podcast section.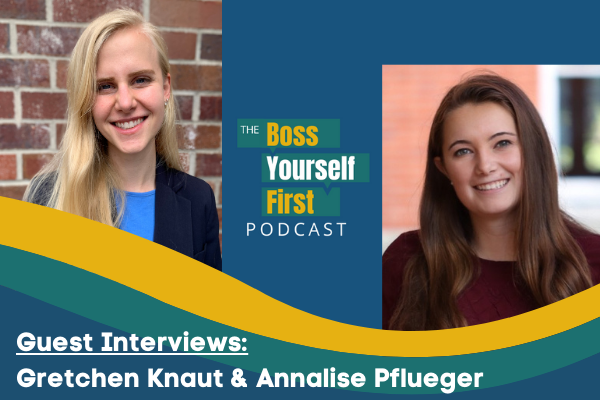 Season 2 Episode 15 – Guest Interviews:
Gretchen Knaut & Annalise Pflueger
On today's episode, we talk with Gretchen Knaut and Annalise Pflueger who share their experiences of graduating from college with the constraints of the pandemic. Listen to their different approaches as they transition to life after their B.A.'s You'll be inspired by the principles and practices they have developed and encouraged by the future generation of leaders they represent. Also, you can download a few of their self-leadership principles at bossyourselffirst.com.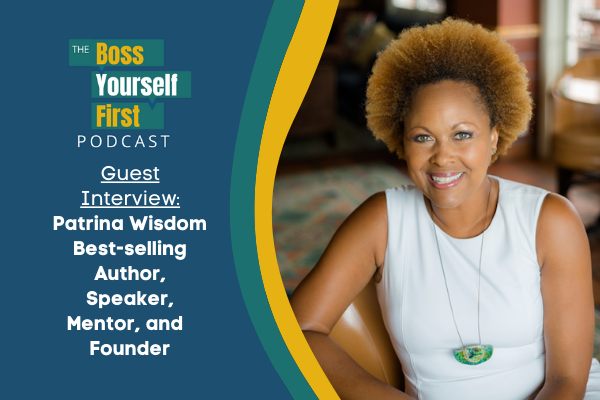 Season 2 Episode 16 – Guest Interviews:
Patrina Wisdom
On today's episode, we speak with Patrina Wisdom who is a best-selling author, speaker, wealth mentor and founder of the Badass Bodacious Life Movement where she inspires women to stand in their personal power and create their best life. Patrina talks about how she handles constraint leveraging sacred self-care and self-authority. You'll hear why she is a sought after inspirational speaker and women's mentor. Don't miss her empowering principles and the special gift she has for BYF listeners!